Compiled by Simon Celiberti-Byam (age 13)
For autism awareness month, I wanted to share a few helpful links that showcase books for parents and teachers to consider when helping kids learn about autism. The good news is that most books cost under $20, and that the kids with autism described in the books vary widely so the whole spectrum is represented. You will also find that there is a lot of overlap in these book lists so you can read about what different people have to say about some of the titles.
17 Children's Books That Promote Understanding of Autism. This list summarizes 17 books kids could read to further their understanding of autism. Aside from a one sentence description, the names of authors, illustrators, and the publishers are shared in case you are interested in buying the book online. They also mention the perspective of the book as told by a child with autism in the first person or by a classmate or sibling so that you can get all viewpoints. There is even a bilingual book in English and Spanish. ¡Muy bien!
30 Best Children Books About The Autism Spectrum. This resource provides a bit more detail as well, with a 2-3 sentence summary for each of the 30 books listed. Although there is no direct link to order the books, the ISBN #s are included. Under each book they suggest an age group to help parents decide which book or books may be best for their child.
Books to Help Kids Learn about Autism. The blogger who wrote this list makes an important point that I really appreciated which is that parents could use books to better explain tough topics such as autism. A good book could also help open up discussion. The books on this particular list aren't described in depth, but a quick review may help you find the right book for your child. Links to order the books are provided.
Books for Kids on the Autism Spectrum. Many of the books showcased here are actually written for kids with autism to help them learn more about their disability. Many of these books include some strategies that can be used by kids to understand how autism affects them, how they can handle stress, and how they can get along better with their peers.
Each of the authors seems to have a specific message that they hope the reader will understand. I am glad that there are so many books that show that kids with autism can do amazing things and be a cool friend. I wanted to dig even deeper into what is out there and share some details about other books and resources not already showcased in the lists featured above.
Khahari Discovers The Meaning of Autism
Written by Evan J. Roberts and illustrated by Janine Carrington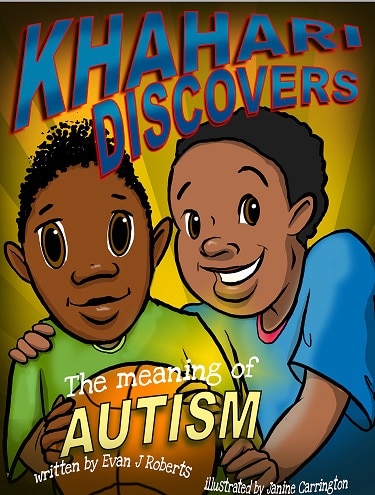 This short, nicely written and illustrated book tells the story of how a young boy named Khahari came to learn about autism after meeting Jaden, the cousin of one of his friends.  At first, the boys did not get along very well and I felt badly for everyone, but things turned around. The takeaway message is that understanding, having more information, and strategies can really make a big difference. I appreciated the way that the author identified different things that people with autism might do like repeat phrases when upset and shared some ways of interacting with kids with autism more successfully. The book is full of "think aloud" questions to help readers think more about what is going on with the characters. As a basketball player, I liked that this sport was a big part of the book. As a biracial kid, I felt an even deeper connection to the story as it was about children who looked like me.
The Khahari Discovers Activity Book is in interactive booklet that could help children apply different reading skills related to Khahari Discovers The Meaning of Autism. There are 4 different activities that involve making predictions, story mapping, roleplaying, and sorting different parts and scenes from the story into major and minor ideas and supporting details. These activities can be applied to other books as well because they are broad and can help a child comprehend any story more deeply. Furthermore, teachers might want to use one or more of these activities in their classrooms.
Kids Booklet on Autism for Siblings and Peers
Published by Autism New Jersey
This booklet includes important information that children (5-10 years old) could know about autism and different ways that children with autism may behave. The booklet opens with some questions and answers written in a very kid friendly way. I appreciated the unique activities that Autism New Jersey used to introduce autism, such as the interactive games that gave new ways to think about autism. During one of the first games, you have to decode letters when they only give you numbers that correspond to that letter. When completed, a message appeared, "Be kind and generous" (oops, I don't think I was supposed to give that away). If kids had fun completing that challenge, they might follow that important message and life lesson to improve how they get along with a classmate with autism. Autism New Jersey created a bunch of kid-friendly resources and activities that teachers can use in their classrooms and a very cool way for kids to get even more involved in promoting awareness. Read about the Autism Ambassador program here and learn how other kids are choosing kindness.
 Learning About Autism Through Kids
Written by Rasheema R. Kearney
Although not free, Learning About Autism Through Kids, can be read online here. This short book tells the story of a boy named Andrew and how his classmates got to know him and learn about autism. Later in the story, he was bullied and taken advantage of because of his autism. There was also a story about a nonverbal girl named Tiffany, who defied the odds and started talking. The takeaway messages are that we should never take advantage of anyone and that anything and everything is possible as Tiffany beat the odds stacked against her. I really enjoyed the incredible way that both were portrayed while facing real life challenges. It gave me a lot to think about.
What's Up with Nick?
Published by Organization for Autism Research
This 3-minute video by the Organization for Autism Research (OAR) covers so much when telling the story of Nick, a boy with autism who starts a new school. At first, Nick's classmates didn't understand why he had his own teacher and sometimes made noises or distracted them. But they soon find out that Nick has autism and that the adult who is always with him is his aid who helps him because he needs some extra support. The moral of the story is that even though some kids might be different, we can still include them in day to day activities and treat them with respect. I appreciated the way that they gave many useful tips for the kids to follow. OAR also offers a Teacher's Kit that goes along with "What's Up with Nick?" that includes books for the entire class. There are different versions of the Kits for Kids Activity Booklets for grades K-1. 2-3, 4-5, 6-8.  Finally, OAR has a special page, Autism Tuned In, to teach elementary and middle school students about their classmates with autism.
Free Worksheets To Promote Understanding
Shared by www.autismeducators.com
This link provides many free worksheets that could help kids learn about autism. Through each activity they can get a better understanding, such as a worksheet where kids can fill in details about a hypothetical classmate with autism to see that there could be much in common. There is questionnaire to help find out what kids already know about autism. Furthermore, they include a "do you know why" activity, that after sharing and discussing could further kids' knowledge even more. I appreciate the work that they put into helping create a better school environment where kids with autism and other disabilities can learn, have fun with their classmates, and be better understood.
I want to end with some quick advice based on some things I have learned from this project and from my own experiences getting to know some kids with autism. There are probably more things but I am still learning too!
One thing that my father has taught me over the years is that "if you know one kid with autism, you really only know one kid with autism." Even if you know a kid with autism it does not mean you understand all kids with autism. Kids with autism vary a lot in their abilities, behaviors, likes, and dislikes. Don't ever forget that!
Be a role model. For kids with autism, you can model what the right thing to do is from shooting a basket to sharing or using better words when expressing yourself. For the rest of your classmates, don't forget that you can be a role model of acceptance and kindness too!
There are many things that kids can do to help classmates with autism feel welcomed in school (like sitting with them during lunch, helping them if they get stuck, or picking them to be on your team in PE). Do those things!
Be patient because when you give kids with autism a chance, maybe you will see their gifts and strengths. Taking the time to get to know them is worth it. You may learn that you have a lot of things in common.
By the way, it is better to say "kid with autism" than "autistic kid" because when you say it the second way it suggests that being autistic is the most important thing about them.
Many kids with autism may express themselves or act in different ways than what you might be used to and that is ok. You can still adapt and learn strategies to interact with them better (for example, you can avoid things that may upset them or you can learn to not take things personally if they get mad at you).
I learned that kids with autism may be more likely to be harassed and bullied. If you see something, speak up or say something to a teacher or another adult. I know this can be hard but, in the end, you may be helping the bully learn from his or her mistakes.
It is OK to respectfully ask questions of the parents and teachers about autism. There is a difference between being nosey and really wanting to understand more and learn how to be a better friend to a kid with autism.
Citation for this article:
Celiberti-Byam, S. (2019). Consumer Corner: Resources for kids about autism. Science in Autism Treatment, 16(4).