Janine Shapiro, CCC-SLP, BCBA
Access Behavior Analysis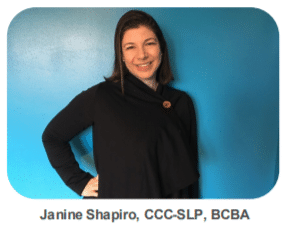 As the first dually certified speech-language pathologist (SLP) and behavior analyst in Indiana, I fully believe in the power of fusing speech, language, social, and applied behavior analysis (ABA) sciences together to deliver more effective treatment. But I have not always been a proponent of ABA. Early on in my career, I even authored a scientific article countering some of the science behind ABA. However, a lot has changed since then.
Learning as a Student
As a graduate student of speech-language pathology, I heard many common misconceptions about ABA. For example, I was told ABA was outdated, unnatural, and created "rote" or robotic behavior in children. I believed what I heard. In fact, I conducted a scientific study with a fellow student under the direction of a doctorate-level clinical supervisor to examine the effectiveness of five social therapy techniques. Published in the respected Journal of Autism and Developmental Disorders in 2008, the article focused heavily on how the specific social therapy philosophy we studied differed from an ABA approach to teaching social skills — and, more importantly, how those differences made the targeted social therapy more effective than the ABA techniques. At the time, I truly believed in the value of the research we performed and the explanation of the promising results we published. Now, however, I realize that many of the components we used in the research study were behavior analytic. I dismissed the value of the science while inadvertently using it. Moreover, without the behavior analytic components of the treatment we studied, the intervention would not have been successful. Had I known then what I know now, I would have applied the principles of behavior analysis in a more targeted, judicious manner, and we would have likely had even more impressive outcomes to publish!
Meeting a BCBA
I started working at a private practice about a year later. The owner announced one day that she'd hired a speech-language pathologist who was also a Board Certified Behavior Analyst (BCBA). I'd never even heard of the term BCBA, but was appalled the moment I learned it was related to ABA. I immediately went to Google for a refresher on all the negative statements I'd heard about ABA. As with any Google search, you can always find what you're looking for and I focused on those that confirmed my worst fears. But then I met Angie, the new SLP/BCBA, and through her work, she exposed me to the reality of ABA therapy for the first time. By just observing her at work, I realized she had an enormously effective skill set that I did not  possess. The truth was undeniable but what I discovered was that, similar to my own experience, most practitioners don't understand what ABA is, what it addresses, or what occurs during an ABA session.
Applying Both Sciences to My Practice
My mind started flipping through a Rolodex of past clients who could have benefited from interventions and therapeutic strategies that utilized ABA. I began a whole-hearted pursuit towards certification as a BCBA—only turning back to convince other speech-language pathologists of the value I'd found in the science I had once publicly maligned.
Over the years, I've witnessed how combining speech and ABA therapies into a single treatment is much more effective than segregating the two. Today, I cannot imagine being an effective speech-language pathologist without my knowledge of, and training in, ABA — it plays an integral part in my daily therapy practices. At the same time, I lean heavily on the developed and respected sciences of speech and language. People have asked me if I switch hats during the day from speech-language pathologist to behavior analyst. The answer is, I don't because I can't tell you where one science ends and the other begins. It's like asking a person, "Which sense are you using right now?"
I see ABA as a science, grounded in an extensive evidence base, that every practitioner who dreams of teaching anything to anyone should learn. It doesn't typically advise what I teach or even the skill components that lead to the final outcome; these are informed by the speech and language research. But it does tell me how to make every aspect of the teaching process more efficient and effective. During daily practice, all of my training is so intertwined that one aspect cannot exist without the other.
Families are often surprised by the quick progress they observe when watching a therapy session that combines these two bodies of knowledge. I can relate to this feeling of awe because I imagine it is similar to what I experienced observing Angie a decade ago. That's why I'm passionate about developing new procedures within our clinical work, where we continually blend these two bodies of knowledge to help our clients make greater gains than their families ever thought possible.
Citation for this article:
Shapiro, J. (2017). Perspectives: The myths I believed about behavior analysis.  Science in Autism Treatment, 14(2), 12-13.