Reviewed by Thomas Zane, PhD, BCBA
Director of Applied Behavior Analysis Online Programs
Van Loan School of Professional and Graduate Studies
Endicott College
Beverly, Massachusetts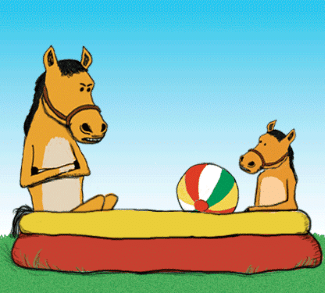 Hippotherapy, sometimes also called "equine-assisted" therapy or "therapeutic riding," involves the use of horses to provide various therapies to persons who display a number of challenging conditions (American Hippotherapy Association, 2010). "Hippo" means "horse" in Greek. According to the American Hippotherapy Association (AHA) website, the horse is used because the "multidimensional movement" of this animal provides "sensory input through movement which is variable, rhythmic, and repetitive" (2010). The rider must react with motions that mimic movements of the pelvis while walking. Such movement is claimed to benefit the rider by enhancing mobility, posture, and balance (Bliss, 1997). Certified occupational, physical, and speech therapists administer hippotherapy, which is often combined with other forms of sensory or motor activities. Therapeutic use of the horse for persons with disabilities, including autism, is quite popular. Currently, according to the North American Riding for the Handicapped Association (2010), there are over 3,500 certified instructors, 800 accredited riding centers worldwide, and over 42,000 participating children and adults.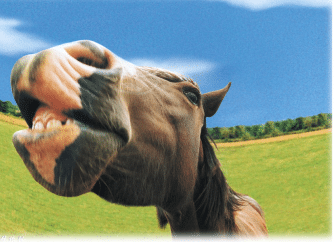 From the perspective of evidenced-based practice, the question that naturally arises is whether there are data to support that hippotherapy is effective in causing any positive, measurable change in some aspect of functioning. Despite numerous publications and testimonials describing the therapy, few scientific test results are available. Benda, McGibbon, & Grant (2003) randomly assigned children with spastic cerebral palsy to either hippotherapy or to a no-treatment condition in which children sat on a stationary barrel. The hippotherapy group reportedly showed significantly greater improvement in muscle activity than the no-treatment control group.
Bass, Duchowny, and Liabre (2009) randomly assigned children with autism to either a 12-week session of horseback riding or a control group receiving no horse therapy. At the end of the study, the authors concluded that children who participated in horseback riding did in fact show improved social skills, better sensory seeking and sensitivity, and more social motivation. However, the authors measured these outcomes with survey instruments that may have been unreliable (Fraenkel & Wallen, 2009). Thus, any claim to the positive results being directly due to the use of hippotherapy must be viewed with caution.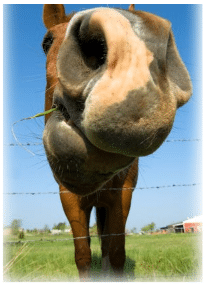 No well-designed studies on hippotherapy have been reported to date. Many of the published papers are either simply descriptive in nature or case studies that do not allow any confidence in a causal relationship between hippotherapy and improvement in the participants.
In sum, it seems that the level of quality research that would allow us to conclude that hippotherapy is an effective strategy for persons with developmental disabilities does not exist at this time. Many proponents of hippotherapy have identified the need for conducting valid, well designed experiments that will hopefully prove that hippotherapeutic techniques can effect change in consumers. As Casady (2007) rightly points out, single-subject research – using well established within-subject designs (such as multiple baseline) – could be used to begin to generate a solid research base in order to empirically determine the effects, if any, of this therapeutic approach. However, with the evidence available, hippotherapy should not be considered an intervention that has a solid research base showing effectiveness and should not be recommended as a therapy that has been proven to help children with autism overcome behavioral, educational, or language challenges.
This column was also recently featured in the Cambridge Center's newsletter: "The Current Repertoire"
References
American Hippotherapy Association (2010). Retrieved from http://www.americanhippotherapyassociation.org.
Bass, M., Duchowny, C., & Liabre, M. (2009). The effect of therapeutic horseback riding on social functioning in children with autism. Journal of Autism and Developmental Disorders, 39(9) 1261-1267.
Benda, W., McGibbon, N. H., & Grant, K. L. (2003). Improvements in muscle symmetry in children with cerebral palsy after equine-assisted therapy (hippotherapy). Journal of Alternative and Complementary Medicine, 9(6), 817-825.
Bliss, B. (1997). Therapeutic horseback riding? RN 60.10: 69+ Academic OneFile. Web. 16 July 2010.
Casady, R. L. (2007). Research how-to series: Single-subject research. AHA Research Guides, retrieved May 17, 2010 at http://www.americanhippotherapyassociation.org/wp-content/uploads/2010/11/winter_2007.pdf
Fraenkel, J. R., & Wallen, N. E. (2009). How to design and evaluate research in education. (7th ed.) New York: McGraw-Hill.
North American Riding for the Handicapped Association. Retrieved July 17, 2010 at http://www.narha.org
Citation for this article:
Zane, T. (2010). Consumer corner: A horse of a different color: A review of the effectiveness of hippotherapy. Science in Autism Treatment, 7(4), 1-2.