Amanda Bueno dos Santos, BS, BCaBA and David Celiberti, PhD, BCBA-D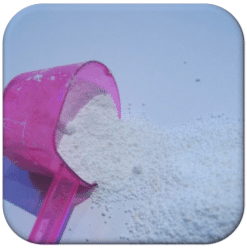 Description : Bleach is typically used as a hard surface disinfectant, a germicide, and for bleaching textiles. It has been used as a treatment that involves a mixture of water, chlorine dioxide (CI02), and citric acid 1 taken in on a regular schedule. With respect to route, individuals drink, ear drop, eye drop, spray on the skin or nose, or administer as an enema. Providers of the product claim that Chlorine dioxide has the …" impressive ability to selectively choose between healthy & diseased tissue – doing so by actively removing electrons from diseased tissue & pathogenic stressors " 2 . This treatment comes in different names: Miracle Mineral Supplement 3 ; Master Mineral Solution 4 ; or the Chlorine Dioxide Solution protocol 5. When ingested, MMS can be caustic to the digestive tract and the Food and Drug Administration has received reports of severe side effects such a low blood pressure, nausea, vomiting.
Research Summary: There are no controlled research studies on this treatment. Chlorine is toxic, poses significant risk of harm, and is potentially lethal, particularly for young children.
Recommendations: Bleach Therapy is not recommended as a treatment for autism spectrum disorders. Bleach therapy appears implausible and unacceptably risky and should not be consumed by humans.
Selected References
Systematic reviews of scientific studies: There are no controlled research studies on this treatment. The evidence is anecdotal and relies 100% on uncontrolled testimonials.
Selected scientific study: See above.
Selected reports of side-effects:
DeFilippis, M., & Wagner, K. D. (2016). Treatment of autism spectrum disorder in children and adolescents. Psychopharmacology Bulletin, 46(2), 18-41.
Hattersley, J. G. (2000). The negative health effects of chlorine. Journal of Orthomolecular Medicine, 15(2), 89-95.
Position Statements and Warnings:
Related ASAT articles:
Celiberti, D., & Lorelli, D. (2012). Underwater Basket Weaving Therapy for Autism: Don't Laugh! It Could Happen. Science in Autism Treatment, 9(4), 8-10.
Harrison K. L., & Zane, T. (2017). Focus on science: Is there science behind that? Bleach therapy. Science in Autism Treatment, 14(1), 18-24.
Related Media Watch letters:
Bueno, A., & Wozniak, R (2018). ASAT Responds to The Journal.ie's, "HSE Staff Member Accused of Feeding Their Child Bleach Solution 'To Cure' Autism"
Celiberti, D., & Pritchard, J. (2018). ASAT Responds to Newsweek's, "Parents Are Making Their Children Drink Bleach to 'Cure' Them of Autism"