Reviewed by Laurie Brophy, LCSW, BCBA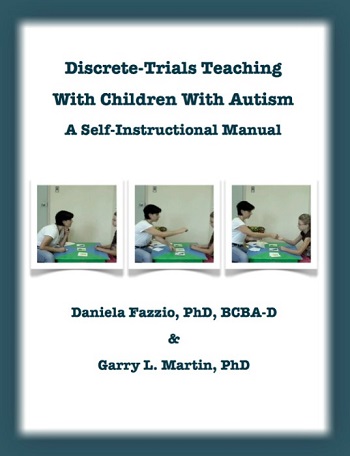 In an era in which the demand for quality interventions for children with autism is increasing, but funding for training is tight, Fazzio and Martin's self-instruction manual is a welcome and needed resource for parents and professionals alike.
The authors aim to provide users with an overview of the components of Discrete Trial Teaching (DTT), also known as Discrete Trial Instruction (DTI). While DTT is just one of the many behavior analytic teaching methods that fall under the umbrella of applied behavior analysis (ABA), it is a key component of many intervention programs for children with autism spectrum disorders (ASD).
The preface to this self-instructional manual introduces the reader to some background information related to early intensive behavioral intervention (EIBI) and discusses the levels of supervision recommended for individuals conducting DTT. And, like any good behavior analyst, the authors did their research on the efficacy of their manual and found that, on average, it takes between four and five hours to complete, and participants were able to implement DTT role playing with a child with autism, with approximately 90% accuracy.
Fazzio and Martin used a logical flow in their manual by breaking it down into two sub-sections comprised of six chapters each. Using well designed teaching strategies themselves, particularly for a self-study method, the authors break chapters down by concept and provide key study questions for each concept. The reader is then provided with review study questions at the end of each chapter, and a test for mastery at the end of each section.
While the book moves quickly into the meat-and-potatoes of DTT instruction, the authors give due attention to the "prerequisite" concepts. The reader is first introduced to an explanation of the term Autism as well as given a succinct definition of ABA and some of its many applications. Many professionals in this field will surely appreciate the author's clarification that DTT is only one behavioral technology of ABA, as many parents, educators, and related professionals maintain the misconception that the terms are synonymous.
Foundation knowledge is continued as the reader is introduced to the basics of behavior, stimuli, and the three-term behavior contingency. Providing examples of a discrete-trial using the three-term contingency and interactions between adult and child that are not examples of discrete trial teaching is helpful for clarification and reader comprehension. Too often, instructors attempt to stimulate behavior change without having a working understanding of essential behavior principles such as positive and negative reinforcement, extinction, and punishment. Of course, shaping and fading are not overlooked either. Basic concepts are carefully introduced along with some useful examples. Given the significance of positive reinforcement and reinforcement selection to DTT, it was an excellent choice of the authors to provide a chapter dedicated to a more in-depth lesson on this topic.
With the fundamentals covered, the second section focuses on the components of DTI, starting with data collection and a focus on most-to-least prompt fading. The authors offer a sample data form, which is used throughout the book. Importantly, the authors clearly explain that one should expect to encounter many different types of data collection forms / processes depending on the program, prompting procedure, and so forth.
The next three chapters, chapters 8 through 11, focus on the five components of the Discrete-Trials Teaching Evaluation Form (DTTEF) that was developed and researched by the authors as a way to help determine if an individual has developed the necessary basic skills to implement DTT programs. These components are:
Prepare to Conduct a Teaching Session;
Manage Antecedents on Each Trial;
Manage Consequences for Responses and Record Data;
Following an Error, Conduct Error Correction Procedure; and
Fade Prompts Across Trials.
Each of these five components is then broken down into sub-components which are explained and reinforced with study questions and practice / role play exercises.
Fazzio and Martin are very clear that certain masteries should be achieved before moving on to the next section. Solo practice as well as role playing these components with a training partner is encouraged by the authors. When using this manual to train program staff, as they progress through the manual, I would encourage the supervisor to require the trainee to complete solo practice for each component as indicated and then role play with the supervisor, who could sign off on whether mastery is met or if further practice for that component is needed. Self-practice rating sheets are also included – this is an excellent addition to this manual. Again, as a supervisor, it may also be helpful to have the trainee complete each rating sheet initially, and then have both supervisor and trainee simultaneously rate the staff using this form. Upon reaching the end of chapter 11, the authors direct the reader to stop and practice all the components of the DTTEF, and to not move on to the final chapter unless they are able to do all the components correctly.
The manual may focus on learning the basics of conducting DTT programs, but it would not have been complete without the final chapter: Decreasing Problem Behaviors. In this chapter, Fazzio and Martin first emphasize the importance of function-based procedures (the necessity of determining underlying function prior to implementing a plan or technique to reduce a behavior). The remainder of the chapter is then dedicated to brief summaries, examples, and study questions relating to procedures for decreasing problem behaviors.
As the authors aptly state, this manual is not intended to be a substitution for supervision or consultation – and one should be cautious of any book or manual that claims to be! It is, however, an excellent resource for programs, training new staff, and for in-home service providers teaching parents how to implement DTT.
For more information about the manual, the authors, and the research, or to order, please access: http://www.dtteaching.com
Disclaimer: Dr. Fazzio, the first author of the book being reviewed here, is a member of the Board of Directors of the Association for Science in Autism Treatment, the organization that publishes this newsletter.
Citation for this article:
Brophy, L. (2013). Book review: Discrete-trial teaching with children with autism: A self-instruction manual. [Review of the book Discrete-trial teaching with children with autism: A self-instruction manual by, D. Fazzio & G.L. Martin]. Science in Autism Treatment, 10(1), 14-15.