Life journey through autism: A Guide for Transition to Adulthood. Arlington, VA: Organization for Autism Research, Inc.
Written by Denise Grosberg, MA,
Claremont Graduate University
Significant life transitions are often greeted with both excitement and concern. For most caregivers of children and young adults with autism spectrum disorders(ASDs), periods of transition raise significant questions about the future. Increased levels of independence, choice, responsibility, and personal control are just a few of the new experiences individuals with autism face when they enter adulthood. Despite the fact that this can be quite a challenging time for young adults with autism and their families, learning about options, resources, and strategies can lead to a more successful transition to adulthood.
To aid caregivers in preparation for this important stage of development, The Organization for Autism Research (OAR) has published a booklet entitled, Life Journey Through Autism: A Guide for Transition to Adulthood. This guide provides an overview of the transition-to-adulthood process, with an emphasis on the following:
The importance of early planning for adulthood. OAR recommends that this planning begin no later than when the child with autism is 16 years old and, in some instances, may begin as early as 14 years or younger.
Establishing a knowledge base in the laws and policies that will influence the educational and vocational trajectory of adults with autism. The Guide provides a clear and practical outline of these policies.
The creation of a transition plan through collaboration between the transitioning individual, their family and friends, interested community members, the schools' professional staff, and representatives from adult service systems in the transition to adulthood services. The Guide outlines key steps that can contribute to a successful, strengths-based approach to long-term transition planning, important questions for parents to think about in approaching the transition planning process, and characteristics of an effective transition plan.
For some individuals with autism, the transition into adulthood may signal entry into the workforce or postsecondary education. Therefore, the Guide includes strategies and references that can help individuals with autism and their families make more informed employment and school placement decisions.
Fostering community-based instruction in the development of life skills associated with a more independent adulthood. Examples of such skills include living arrangements, personal care, time management, finance management, hobbies and recreation, sexuality and relationships, daily living skills, and healthy habits.
The importance of legal and financial planning for the future, including determining future guardianship, so that adults with autism are supported and cared for throughout their life. Although a difficult topic for many caregivers to consider, it is a crucial one that caregivers of individuals with autism must understand and prepare for.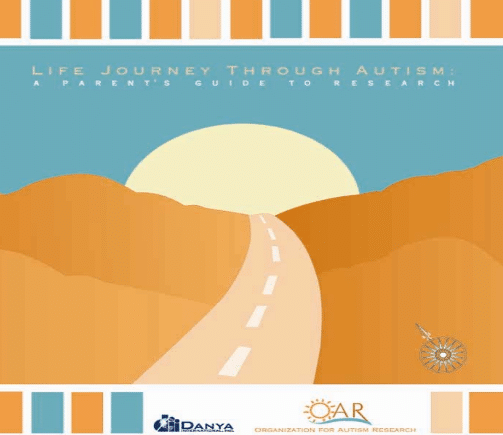 Additionally, the guide lists a number of print resources, websites, and multimedia with which parents can gather additional in-depth information on content areas that are specific to their needs. Sample worksheets are included at the end of the Guide to help parents and individuals with autism identify goals for the future and make decisions regarding vocational, educational, and financial concerns.
Ultimately, the key themes communicated to parents in Life Journey Through Autism: A Guide for Transition to Adulthood are preparation and practice for the future. Caregivers can enhance the likelihood of successful transitions for individuals with autism by increasing their knowledge of available options and taking active steps in planning for the future.
Caregivers should keep in mind that this guide is not intended to be used as a stand-alone reference tool, but rather to provide a candid snapshot of the variety of issues families need to consider and prepare for when their child reaches adolescence. The importance of recognizing that every child with autism will eventually become an adult and face specific challenges associated with that transition cannot be underestimated. Whether a parent has a child of 3 or 33, this guide is an essential reference tool that every caregiver of an individual with autism should have.
If you would like to download this guide from their website, please visit the OAR website at:
www.researchautism.org/resources/reading/index.asp
Citation for this article:
Grosberg, D. (2011). Consumer corner: Review of "Life journey through autism: A guide for transition to adulthood." Science in Autism Treatment, 8(2), 11.