By Franca Pastro, BA, ASAT Board Member and Parent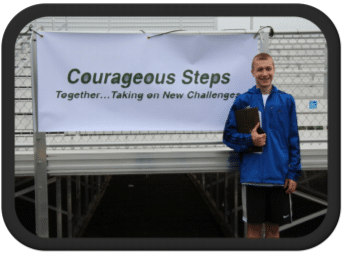 In this issue of Perspectives, we are featuring Connor Archer and his organization, The Courageous Steps Projects, a fundraising organization that honors and supports people who have taken steps to overcome challenges. We have also conducted an interview with Connor's mother, Jessica Archer, who gave us better understanding and appreciation of Connor's remarkable journey and achievements.
Franca Pastro, BA Perspectives Coordinator
Interview with Connor Archer
Franca: I visited your Courageous Steps Project (CSP) website, Connor, and I must say – you have created an impressive organization with such honourable causes! What motivated you to start CSP and what projects are you currently working on?
Connor: After my challenges of overcoming obstacles of autism, I saw a need in our society – helping other young children with challenges. It started with summers spent at The Green House Nursery School, where I was a student, helping with the garden and painting steps, and then eventually, two years ago, the Courageous Steps Project came to be. With Courageous Steps, I have a few projects: the Back to School Drive to provide school supplies to many area schools for students with and without disabilities, and the School Technology Drive to get computer devices for the students and staff. For students graduating from Old Town High School, I began the Scholarship Fund for students (with or without disabilities) who have overcome or are living with challenges to order to help them achieve their educational goals. My latest project is the "One Word" video which is a video you can watch on my website – I want to educate others about focusing on the person, and not on the disability.
Franca: Managing CSP requires a lot of work and commitment, especially when you are still a full-time student. How do you manage?!
Connor: My mom more than anyone helps me with Courageous Steps. She drives around and helps me get sponsors, and solicits donations in gift cards and items for silent auctions for my events, so that way I can be a full-time student and athlete, and achieve times in my running that are impressive. We brainstorm ideas for fundraisers together and think through the details together. She usually helps to write my speeches as we talk over what I want to say, and with organizing my day because she understands how my brain works – we are a good team. I also ask my friends to help me volunteer at my events, and help me get people to show up at my events. My dad helps me with my silent auctions, and contacts people with emails, which helps me get more proceeds quicker, and takes less energy from my end. As far as Courageous Steps is concerned, I created and manage the website all by myself. I enjoy technology and the upkeep of a website that represents Courageous Steps in a clean way.
Franca: What are your future plans?
Connor: My future plans are to go to a four-year college. I plan on attending Husson University or the University of Maine as they have good business management and technology programs. I know I have a strength in the technology field and I think I can be very good at business, as I have worked to build my Project and my plan is to continue and expand it. I also want to minor in coaching, as I want to be a distance track coach one day – I love running and want to share my passion.


Franca: I can imagine you've gone through tremendous changes in your life. What has helped you overcome the challenges associated with autism?
Connor: "It takes a community to raise a child." It takes therapists, parents, siblings, friends, teachers, psychologists, doctors, community members, etc. I was fortunate to have so many of those support systems in place, to help me overcome those challenges. My mom made me do some things that I didn't want to do through the years. She pushed me out of my comfort zone because she recognized that is what I needed to learn and be an active student and citizen. It was not always easy to do new things and sometimes I still resist, but she always encourages me and reminds me that, with time, new things won't be as hard. I get tired and sometimes I feel stress because I have a lot to do and a lot I want to do, but my family is very, very supportive and they help me whenever I need it. So many people had to be a critical part of my life, whether they knew it at the time or not, to get me to where I am today and I am so grateful. I want to give back and to show others that even the smallest action can make a difference.
Franca: What would you say to other individuals with autism who are beginning to plan their future?
Connor: If you are an individual living with autism, perseverance and determination are the two words that come to mind. There have been very few days in which I have not had to persevere in some way and determination has helped me to get to where I am today. There are going to be tough days ahead. I think of the achievements that I have already made, and I continue to strive to reach goals, as many others should as well. It may take months, years, and decades, until you see the impact. But it is worth it when you do!
Interview with Jessica Archer
Franc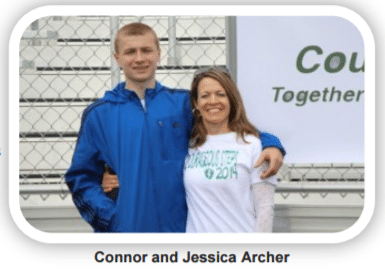 a: It is hard to really appreciate Connor's achievements without knowing where he began. Can you share your journey with Connor from the time of his diagnosis?
Jessica: Connor was diagnosed with autism shortly after his third birthday. We became concerned with his development when he was around 18 months, thinking that he might have a hearing problem because there were times that he would not respond to our voices. He was a very happy, content baby, but he did not seem interested in typical things and events. For example, during his second Christmas (22 months old), he was not really interested in the presents and tree like his older brother had been at that age. He was content to play with a toy that made musical sounds, pressing the same buttons over and over again.
Connor would interact with our family by smiling and laughing, but he did not talk to us. He would listen to stories; however, he would not interact with the story. He was pretty much oblivious to visitors and preferred to run into the other room and listen to music or press buttons on toys, but never really played with them in the traditional sense. We shared our concerns with our pediatrician, and we were told that some children just acquired language later. It was more than just language acquisition, though. The most impactful moment for me was leaving home to give birth to my third son and hearing about Connor's reaction from my mother, who was looking after him. He was very upset, tipping chairs and throwing things, crying, but unable to speak (because he could not form words). Later that day, my mother brought Connor to the hospital. I remember, so clearly, him looking at me, smiling, then lying down on the floor with his blanket and falling asleep. He was exhausted, but knew that his mommy was still part of his world. I knew at that moment, that I needed to find answers to help my little boy.
Franca: After diagnosis, what followed?
Jessica: Connor started interventions shortly after his diagnosis of autism. He began with speech therapy, but that was unsuccessful because he did not have receptive language skills to understand the commands of a speech therapist. We felt he needed behavioral interventions first. Because he could not communicate, he got frustrated and often knocked things over, emptied containers of toys and sometimes he was aggressive (hitting, biting). We visited a number of schools that would provide early intervention to teach him the skills that he needed, but it was not until we stumbled upon The Green House that I knew I had found the right school.
I was sold on the fact that it was an inclusive program and knew that, in order for Connor to learn typical behavior and language, he needed to be exposed to typical behavior and language. The Green House provided the best of both worlds: direct instruction (Applied Behavior Analysis intervention supervised by a qualified Board Certified Behavior Analyst) and kids learning while in the presence of their typically developing peers. He needed to be able to "practice" his skills in a real world setting with continued support from teachers who could take skills learned in a 1:1 setting and have him generalize them with peers.
Connor began his 40+ hours/week of intervention that fall (3.5 years old). We started teaching him sign language and used the PECSTM system for about a year as he SLOWLY acquired language. We had to teach him language by teaching sounds, then sections of words, then words, then phrases, then sentences. The process was arduous. His apraxia was very significant and the challenge to develop language was daunting for him and his teachers and therapists. Motor planning was a huge hurdle, not only with moving his mouth to create sounds (and eventually words), but moving his hands and body to do almost anything.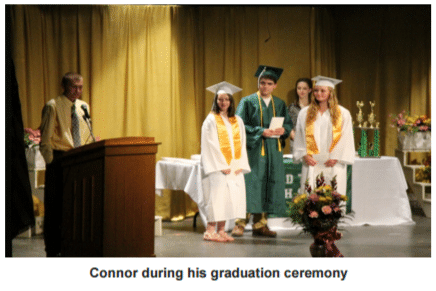 Franca: How much involvement did you personally have in Connor's development?
Jessica: I really knew very little about autism when Connor was diagnosed 14 years ago. I did know, however, that I would need to help him to learn; that was obvious. I started reading many books, taking classes at the University of Maine, eventually earning a Master's degree in special education and a Certificate of Advanced Study in special education and literacy. I also learned from sessions with Connor's therapists and teachers. They showed me how to continue the learning process that Connor received during his 1:1 sessions. I quickly learned that Connor would need many additional hours of reinforcement and teaching at home, too, in order to learn skills and make gains.
This continued right into his public school years. I recall sitting in his IEP meetings and explaining to teachers that there was simply no way that they (his teachers) could teach him all he needed to know during the six hours he attended each day in school. I requested materials and frequent communication with teachers in order to be his "at home teacher." Connor worked hard, but he really did not know that his schooling, year round and extended days (4-6 more hours) was not the norm. He had started at such a young age and I think much of his current work ethic stemmed from that early schedule and the need to put in so many hours in order to learn so many skills.
Franca: As all this has unfolded over the years, how has it impacted your life personally and as a family?
Jessica: I am a better teacher, parent, and overall human being for having Connor in my life, and I believe the other members in our family would concur because Connor has taught all of us that life can have insurmountable obstacles and each day can seem more daunting than the previous, but it is necessary to just keep moving forward. Connor has taught all of us that we need not fear failure because it is a critical part of learning. He has taught us how to be genuinely happy and how powerful it can be to give back to those who have helped along the way. Franca: Is Connor presently in any form of therapy or receiving services? Jessica: Connor receives very few services now. He still has a case manager at school who helps him to organize his schedule, especially during more stressful times, such as the start of a new school year, mid-term and finals week, and other potentially disruptive events. Connor has learned, through years of role-play and modeling, how to be a tremendous self-advocate for what he needs to succeed. He also receives speech and language services twice a month to help with inference skills and building his vocabulary, and I continue to tutor him.
Franca: What is Connor's take on autism?
Jessica: Connor is fully aware that many individuals with autism are impacted differently. It took an extraordinary amount of courage for Connor to share his story of an individual living with autism in a health class his sophomore year. When an assignment called for describing an individual with a disability, he selected autism and told his story. He was very nervous about sharing his story because he did not know how his peers would react: "Would they look at and treat me differently? Would they tease me?" To him, his worries were very real as he was a 16-year-old and when you are that age, your peers are very important.
He wrote a story about a little boy's journey with autism – including all of the obstacles. At the end of the story, he revealed that the story was about him. As he read the story, students who had known Connor since he was very young, knew the story was his own – they were the ones who cried. Others, sort of knew, based upon their observations of Connor over the years – they were the ones who smiled and nodded their heads thinking, "That makes sense." The remainder had no idea and were very surprised. One thing was common of all the students' reaction that day – they were proud of Connor and they expressed how incredibly brave and courageous he was to reveal his struggles and disability.
That day changed Connor. Word spread fast about what he had done and the next day he spoke to another health class full of more peers his age. It was as though a tremendous weight had been lifted off of his back. He no longer had to explain why he had to use a laptop to write because he did not have finger dexterity to write well. Everyone understood why it was often hard for him to even say, "Hello!" and keeping a conversation going was even harder. Not only did his peers accept him, they embraced Connor for the unique individual he had always been and would always be.
Connor has stated that he embraces autism and I believe what he means is that he embraces what it has brought into his world. He has faced challenges for years and he still does. He has needed tremendous amount of support and he still gets it. Connor recognizes that so many people who have been so important in his life are a part of his world because of his diagnosis. For that he is grateful and, proudly, through Courageous Steps, he sees himself as "giving back." Having autism has not been easy for him and it never will be, but Connor understands that he was meant to be on this journey that would not have happened had he not been diagnosed with autism. He embraces the life that it has given him and the path that lies ahead as an advocate for others who also face challenges.
Franca: Do you have any advice for other parents/ caregivers of young adults with autism who are thinking about their future?
Jessica: My advice for other parents/caregivers is to take one day at a time. It is hard to raise a child with a disability. It is exhausting and very frustrating at times. There are times I have felt very alone. It has also brought tremendous joy to my world because of the victories that to others might seem very trivial, but to me are monumental. None of us know what the future will bring; all we can do is to plan the best we can, seek support from others, and every day find the sparkle that makes each of us unique.
Connor Archer was diagnosed with autism spectrum disorder at the age of 3 and this year he graduated from high school. He lives with his parents and brothers in Old Town, Maine, USA.
Citation for this article:
Pastro, F. (2015). Interviews with Connor Archer from the courageous steps projects and his mother Jessica Archer Science in Autism Treatment, 12(4), 28-33.