Conducted by Erin Leif, PhD, BCBAD
Association for Science in Autism Treatment
Recently, I had the opportunity to speak with Erika Gleeson, CEO and founder of Autism Swim, to learn more about how this innovative social enterprise is addressing wandering and drowning prevention for individuals on the autism spectrum.
Erin: Hi Erika! We are thrilled to have the opportunity to chat with you. I was hoping you could start off by telling our readers a little bit about your background, and what led you to found Autism Swim?
Erika: For the bulk of my pre-Autism Swim career, I travelled around Australia working with individuals who exhibit quite complex behaviours of concern. Around five years ago, I was up late one night doing some research with a professor that I was working with at the time, and I stumbled across the drowning statistics for those who have ASD. I was pretty horrified to read that children under 14 years old with Autism Spectrum Disorder (ASD) are 160 times more likely to drown than their peers. I kept researching, trying to learn about why this was the case, and what could be done to prevent it. I found that there just really weren't any clear answers to the questions that I was seeking. I became determined that all of the clients that I was working with at the time would receive aquatic services, so they could learn some foundational water safety and swimming skills. However, none of the local swim centres were prepared to take my clients on. So, I did something about it. I began offering the local swim centres pro-bono training, resources and support- purely out of desperation. At that stage, I had no idea how big the problem was, or that I was the only person offering this specialised service, and I certainly had no intent of starting a side business. But the need quickly became apparent, and Autism Swim was born. Within a few months, I digitised all of my teaching material, and then quite quickly, we expanded internationally.
Erin: Wandering and drowning is such an important problem to tackle, and it's impressive that you took direct action to address it. Can you tell us more about Autism Swim?
Erika: Autism Swim is an international social enterprise of experts, specialising in wandering and drowning prevention for those with ASD/other abilities. Autism Swim's ultimate goals are to change the drowning statistics for individuals with ASD and make aquatics programs more inclusive, worldwide. We work toward these goals in a variety of ways. One of our main goals is to provide training to aquatics professionals, including swim and surf instructors. We teach aquatic professionals about things like sensory challenges and regulation, behaviours of concern, receptive and expressive language and communication, principles of ABA, and more so that they're better able to tailor their instructions/lessons accordingly. As a result, these trained professionals get the most out of their participants. We know that more often than not, aquatic professionals aren't even getting to the programmatic elements of the lesson because they're spending the whole lesson trying to address sensory challenges, engagement challenges, learning differences and/or behaviours of concern. Our job is to teach them how to get on top of these things more effectively, so that they can concentrate on what they do best – teaching aquatics! We provide aquatic professionals with ongoing clinical training, resources, and support; and as a result, they become Autism Swim-approved and are listed in our online marketplace (where parents/caregivers and those with other abilities can find their local providers). We also run a range of specialised events. Our most notable is our Dippers, which is now operating at multiple beaches across Australia. Dippers is a modified Nippers and surf lifesaving education program which is designed for all ages and all abilities. Our participants learn water safety and ocean skills in line with their individual goals (rather than following a set program) in a really fun environment. Every participant has 2:1 volunteer support. We also provide wandering and drowning prevention support to parents, caregivers, and educators. This occurs via face-to-face workshops, online webinars and teletherapy, and the provision of digital resources. Finally, we have recently launched a free and world-first water safety mobile application for children with ASD and their families and aquatics providers. More information on the App can be found here.
Erin:  You note that children with Autism Spectrum Disorder (ASD) are 160 times more likely to drown than their neurotypical peers. Why do you think this is the case?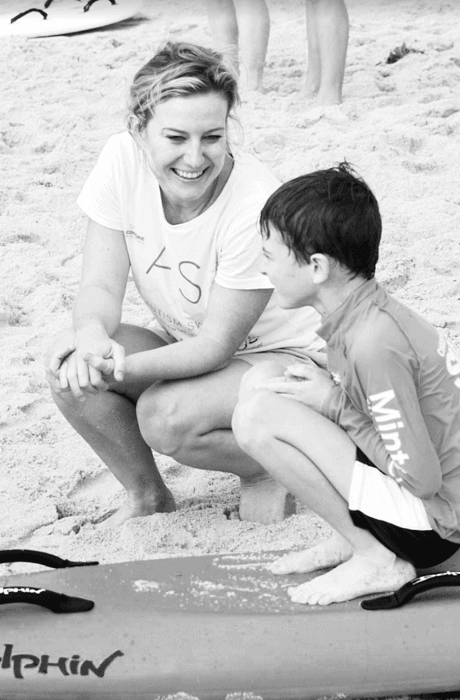 Erika: It truly is the perfect storm of a range of different risk factors. We know that over 50% of individuals with autism wander, and more often than not, they gravitate toward bodies of water. However, for many, when they get to the water, they have a decreased ability to perceive risk and danger (especially if they also have an intellectual disability). Many of these individuals are also not strong swimmers because swimming lessons haven't gone so well for them in the past. Even if they had previous experiences with these lessons, they likely weren't being taught in ways that are conducive to their needs, or they were actually turned away from swimming services because of their needs. There is also an overarching lack of awareness about the problem, as many parents don't know that their child would be considered high-risk. Further, many professionals may not be aware of the extent of this risk. Sadly, many clinicians are not specialised in wandering behaviour, and many parents reported not knowing where to turn on this challenge before finding Autism Swim. Lastly, we know that those with ASD are at higher likelihood of seizure activity and hence, we sadly do see seizures happening in the water. So, as you can see, there's no single reason for the increased drowning likelihood. There is a myriad of factors, many of which relate to one another. More information on the problem can be found in Autism Swim's annual report.
Erin:  You've definitely identified some key risk factors. What types of things can parents and aquatics instructors do to help kids with autism learn to be safe around water?
Erika: Of course, I recommend parents enroll their children in lessons with an Autism Swim-approved provider! The sessions will consist of water therapy, water safety, and learning to swim. There's obviously a huge education gap in terms of different learning styles. Unfortunately, many people in society that continue to teach with the underlying belief that everybody should receive the same instructions in the same way, based on the idea that everyone learns in the same way. But we now know that many children, particularly those with ASD, have diverse learning needs and require differentiated instruction, and that we as educators in whatever arena, need to adapt our programs and methods of teaching. It's important to understand that  individuals do not always sign up for swimming lessons for the purpose of learning how to swim. There's a myriad of other goals that the individual could be trying to achieve through those sessions (for example, social skills, regulation, and water safety – to name but a few). Some examples for parents on things that might be helpful for teaching water safety include highlighting the circumstances when it is okay to get in the water and when it's not (e.g. develop a cue with the child that indicates it's okay to go swimming now), lots of opportunities to practice safety skills around water, breaking skills down into small teachable components, and using positive reinforcement to teach new skills. These are things that the parents are likely implementing in other areas of life, they just may not have thought to apply these strategies to the world of aquatics and water safety.
Erin:  It sounds like Autism Swim has built quite a presence in Australia. You mentioned that you quickly expanded internationally. How many countries currently have Autism-Swim approved aquatics programs?
Erika: Autism Swim is currently operating in 15 countries and continues to expand at a fairly rapid rate. The locations can all be found on Autism Swim's location finder.
Erin: It's impressive that Autism Swim is in so many countries! How have you shared your program and successfully built your international presence? 
Erika: The short answer is technology. It became apparent very early on that I wasn't going to be able to continue flying around Australia and around the world to provide training and clinical expertise to aquatic professionals face to face. It just wasn't scalable. Therefore, it was an easy decision to adapt my teaching methodologies to an online platform, with the intent of making it scalable across Australia. Expanding internationally wasn't really part of my plans at that early point in time, but we very quickly expanded into Malaysia, and then it just snowballed from there. This was another accidental milestone of Autism Swim, if you will; a clear example of how technology can be used as an excellent vehicle for change. At the moment, Autism Swim trainings and resources are only provided in English. However, we do have a longer-term goal to translate our material into multiple languages in order to cater to more aquatic professionals around the world.
Erin: Many of our readers are parents. Do you provide other useful resources for parents of children with autism?
Erika: We sure do! There are quite a few on our website. Our most popular resource is probably our wandering and drowning prevention toolkit for parents and educators. It's an incredibly robust document that covers everything that parents, caregivers, or educators would need to apply in terms of preventing wandering and drowning – and for responding effectively and efficiently if a wandering incident ever was to arise. We've got things like a wandering checklist, a Wandering Action Plan, guidance for liaising with emergency services should wandering occur, and so on.
Erin: You've already accomplished so much! But I'm curious – what are your future dreams and plans for Autism Swim? 
Erika: As of next year, we will be launching a surfing certification, so that surfing teachers around the world will have the opportunity to become Autism Swim-approved. Our hope is that families will be able to go onto our website and filter the activity that they might like to participate in, put their postcode in, and easily discover all of their options. Right now, we are able to show nearby aquatic therapists or learn-to-swim teachers – and soon surfing teachers will be visible too. Down the track, our intent is for our website to include links to Surf Life Saving Club's (SLSC's), paddle boarding, and all other aquatics activities that individuals might want to participate in. Not only will all of these options be available, but families can have confidence that these providers we list are knowledgeable and skilled at adapting teaching methodologies to suit varying learning needs. Last year, we also launched a pilot water safety app, which again is the first and only of its kind in the world. We are currently going through phase two of the development, thanks to some recent funding. The app is designed to accompany Autism Swim-approved services, because we do know that for many individuals with autism, technology is their best friend. We are trying to tap into that interest and deliver different options, so that we can continually be reinforcing water safety messages.
We exist because aquatics SHOULD BE inclusive. First and foremost, individuals should have choice and control regarding whatever activity in which they might like to participate, with the confidence that professionals who deliver these activities will be prepared to cater to their needs. By increasing access to inclusive aquatics programs, and teaching parents and professionals about water safety and wandering prevention, the drowning statistics will decrease. It's been quite the journey over the last five years. When I stop and reflect on we have achieved, it is monumental. However, we still have an incredible amount of work to do and people to reach. We've really only just scratched the surface.
Erin: We agree that this has been a monumental achievement Erika! Thank you for all your efforts to make aquatics programs more widely available and accessible to people with autism. We heard through the grapevine that you've been nominated for Australian of the Year for 2021, specifically for your work in this area! We wanted to give you our heartfelt congratulations.
Erika: That's very kind of you, thank you! I'm very chuffed. Thank you for supporting Autism Swim on our inclusive aquatics journey!
Citation for this article:
Leif, E. (2020). An interview with Erika Gleeson, Founder and Director of Autism Swim. Science in Autism Treatment, 17(11).
Other Related ASAT Articles