Written by Eric V. Larsson, PhD, LP, BCBA-D, Kathleen Dyer, CCC-SLP, PhD, BCBA-D, and Patricia Egan, PhD, BCBA-D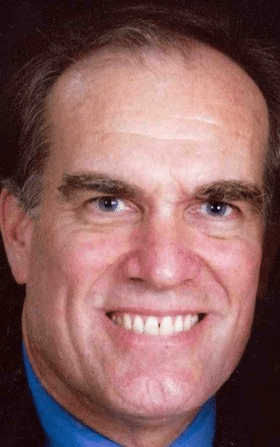 Stephen C. Luce, PhD passed away after a long battle with cancer. He is survived by his wife, Claire, and three sparkling daughters, Megan, Kirsten, and Emily. He lived in successful remission for many years during which he continued to enjoy life to its fullest. Aside from being an accomplished researcher, clinical leader, and editor of respected journals, Steve inspired those around him with his acumen, intense personal style, and joie de vivre.
Most recently, Steve was the Vice-President for Clinical Programs, Training and Research of Melmark, where he was responsible for all clinical programming for over 200 individuals of all ages with developmental disabilities, autism, and acquired neurological impairments in Pennsylvania, Massachusetts, and Maryland. At the same time, he was Clinical Professor of Psychology at the Philadelphia College of Osteopathic Medicine.
Steve was a graduate of Marietta College in Ohio. He went on to achieve his Masters from the Division of Exceptional Children at the University of Georgia. He then began teaching children with special needs in Colorado before going on to study under R. Vance Hall at the Juniper Gardens Children's Project at the University of Kansas. There he received his doctorate in 1979 in Developmental and Child Psychology from KU.
He acquired an international reputation at The May Institute in Chatham, Massachusetts. From 1978 until 1990, he and Pete Christian transformed a sleepy residential "camp" for children with autism (one of the first dedicated autism programs in the world) into a cutting-edge residential treatment program. The work was hard and grueling, and Steve settled for nothing less than the best. This was in the primary era of applied behavior analysis, and its newness could be felt in every respect. The original staff members were openly hostile to behavioral principles, to the great harm of the children served. As a result, every behavioral system had to be built out of nothing. Due to his great dedication, the team was able to innovate and design the entire system, from direct clinical treatment to staff training to organizational management, to reach the highest levels of success. Steve himself could often be found working late into the night on the campus, effectively intervening with severe behavioral challenges and inspiring intense loyalty in his behavioral converts. He very clearly understood and intentionally used the power of accurate, differential reinforcement with his own staff.
Kathy Dyer writes, "Steve's lightness and sense of humor and play transformed the most difficult assignment into an enthusiastic and joyous endeavor with his team of colleagues. It was emotionally grueling work, but it didn't feel hard at all — though I don't think it would have felt that way without Steve there."
Pat Egan writes, "Steve was so positive and full of energy that he made the job a lot of fun for us — he was the definitive reinforcer. He not only talked me into taking an overnight supervisor position at the May for two years, he had me believing it was a great opportunity. Funny, though in the end, it actually turned out to be."
Amongst his many innovative applications of behavioral principles and systems, including task-analyzed training systems, behavior management techniques, teaching family homes, and language skill development, Steve envisioned and implemented the concept of transitional programming — that the purpose of the residential treatment was not long-term care, but actually to train the children and their home environments to be able to transition them back from the institution to their homes and local schools. Based upon this foundation, he developed a full continuum of services for persons with autism.
While the clinical innovation and management would be enough to consume most professionals, Steve also took this work to its next level and implemented comprehensive research and training programs, resulting in the granting of numerous Masters degrees and PhDs to May staff, and the publication of numerous research studies. As a result of this effort, over Steve's tenure, the size of the May Institute grew from 38 children served to 52, with an impressive success rate of successfully transitioning 50% of the children back to their communities, while reducing the length of treatment from four to 2.9 years.
Steve held numerous faculty and clinical consultation appointments at universities and clinics around the world. He served as an expert case evaluator for the U.S. Department of Justice. He was often called upon to provide expert testimony on behalf of children with autism. After the May Institute, Steve held the position of Associate Director of Behavioral Services for post-acute rehabilitation of head injuries at New Medico Associates in Boston and New Hampshire.
He then took the position of Vice President of Program Operations at Bancroft in New Jersey. There, amongst his many responsibilities in serving over 500 persons with developmental disabilities, autism, and head trauma, he initiated one of the first systematic replications of the Lovaas Young Autism Project. This work spun off into one of the main branches of the Lovaas Institute, and is still sustained to this day by Scott Wright and other staff who Steve mentored. One of Steve's most popular books came out of that effort (Behavioral Intervention for Young Children with Autism, edited with Drs. Catherine Maurice and Gina Green).
Before his final position, Steve served as the Executive Director of the Sonia Shankman Orthogenic School and Clinical Professor of Psychiatry at the University of Chicago. This was the actual director position once held by the infamous Bruno Bettelheim. In this role, he was able to provide crucial internal data and information for the making of the PBS investigative film "Refrigerator Mothers," which documented the debunking of Bettelheim's destructive psychoanalytic theories. One of Steve's fondest memories was of being able to take Bernard Rimland and Ivar Lovaas into that inner sanctum and give final confirmation to their analysis of Bettelheim's misrepresentations.
So often in Steve's era, there was a sense of oppression of behavior analysis. Not only would we have to work hard to develop funding for unproven models in a skeptical environment, but the new staff and consumers themselves would approach the work with a chip on their shoulder — needing convincing that the behavioral innovations were the way to go. Further, the intense needs of the children and adults also brought high risks to clinical missteps. In this highly adversarial environment, Steve's natural competitiveness gave us the energy to persevere. And yet I, and everyone who responded to news of his passing, had the same reminiscence — his lightness and sense of fun infused it all with a sense of enormous enthusiasm and invigoration and positive spirit. His enduring contributions are the many, many behavior analysts, all around the world today, whose work was reinforced by his leadership, and who continue to strive for the highest possible outcomes for their every client.
Written by Jamie Pagliaro, Rethink Autism
I learned of Steve Luce through a book, Behavioral Intervention for Young Children with Autism (Edited by Maurice, Green & Luce, 1996), which was given to me by the first family I worked for in a home-based ABA program. As a college student without much knowledge of ABA or autism, I could hardly appreciate the value of a manual that helped newly-diagnosed families navigate the treatment process in a time when there was limited funding available, there were few programs for children with autism, and no credentialing of Behavior Analysts.
So imagine my surprise (and nervousness!) when years later I was presenting data at a weekly staff meeting at Melmark, when in walked a tall man who introduced himself as "Dr. Steve Luce." He was there to observe, and – I later learned — for a job interview. As I wrapped up my data presentation, Steve raised his hand. Worried that I misspoke or misinterpreted something, I was relieved to hear him ask a few insightful follow-up questions that prompted me to take a closer look at the data I had just presented. That day began a professional mentorship and later a friendship for which I will always be grateful.
Steve was a remarkable person in his ability to mentor and support others throughout his career. He inspired so many young professionals in the field to stay motivated, go back to school, and focus on creating better options for individuals with disabilities. He also modeled how to make the "science" more accessible, and emphasized the importance of dissemination. I learned from Steve how to promote ABA in a way that was more palatable to others, thus increasing the acceptance of a scientific approach to changing behavior.
Even throughout his battle with cancer, Steve remained upbeat and optimistic. Whenever I asked about his health, he had a way of quickly turning the conversation back to what I was up to and sharing his advice. As I reflect on our relationship, I realize the most important thing Steve ever taught me was the value of using the principles of reinforcement to shape the behavior of the individuals we serve as well as those around us. Steve sometimes called it "sprinkling a little fairy dust," and those who experienced it know just how magically effective it was! He will be missed!
Citation for this article:
Pagliario, J. (2011). Tribute to Dr. Stephen C. Luce. Science in Autism Treatment, 8(1), 11.